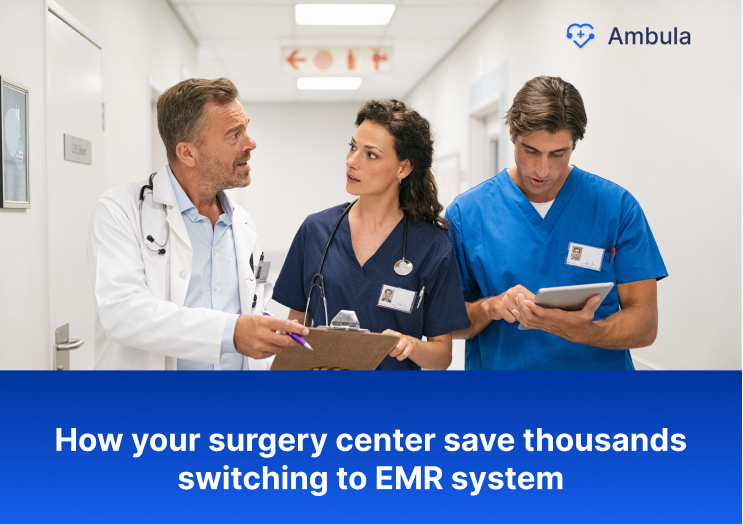 Switching to an electronic medical record (EMR) system can be daunting for any surgery center. However, the benefits of switching to an EMR system far outweigh the challenges. Surgery centers can save thousands of dollars by making the switch while improving patient care and safety.
Savings ASCs can Benefit From
Ambulatory surgery centers can save thousands on operative costs each month by switching to an EMR built for ASCs. An EMR helps save money by the following:
Streamline the surgery center's workflow
Reduce redundant data entry
Eliminate the need to chase surgeons down for signatures
Single digital source of all patient records
Reduce or eliminate the need for storage facilities
Be able to spend hours less reviewing charts
Generate reports quickly with structured data
In recent years, the healthcare industry has significantly shifted to electronic medical records (EMR) systems. As the benefits of EMR systems become more evident, many surgery centers are considering the switch. However, switching to an EMR system can be complex and time-consuming if you don't pick the right vendor.
Here are the essential steps for surgery centers when switching to an EMR system:
Ass
ess
Your
Current
System
The first step in the process is to assess your current system. This involves looking at what aspects of your design work well and what needs improvement. This information will help you determine the type of EMR system best suits your needs. You should also consider the cost of the system, the ease of use, and the level of technical support it offers. Additionally, you will want to consider the system's security measures, and how it integrates with other systems, you may already have.
Research
Your
Options
Once you've figured out precisely what you want and need from an electronic medical records system, it's time to start researching the different options that are out there. Look at things like how easy it is to use, the cost, if it can talk (or interface) with other systems you already have, and what kind of customer service the company offers. It's critical to find a system that is specifically tailored to you and your practice's needs. That way, you'll get the most out of your EMR system and be able to provide the best care for your patients. Make sure you choose an EMR system that is built specifically for ASCs.
Ambula Health is a leader in providing an easy-to-use, modern surgery center EMR. Learn more about how Ambula can help your surgery center.
Create
a
Plan
Once you've chosen an EMR system, it's time to create a detailed implementation plan. This plan should include a timeline of when each step of the implementation process will happen and who will be responsible for each task. You must have a timeline so you can stay on track. It's also essential to ensure everyone involved is on the same page. That's why you should discuss the plan with all the stakeholders. This will help make sure everyone is clear on their role and responsibilities. With all this in place, you'll be well on your way to a successful implementation.
Once the plan is finalized, it's time to start training your employees on the new system. Take the time to ensure that your staff is adequately trained to use the system confidently and comfortably. Ensure you provide enough instruction and resources so your team can get up to speed quickly. Also, offer support during the transition period to ensure any issues or questions can be addressed soon. Providing proper training and support, your staff can work more efficiently and confidently with the new system.
Test
and
Monitor
Before implementing an EMR system, it is essential to ensure that the system will work correctly. Surgery centers should thoroughly test the system before going live to do. This will help prevent any potential issues from the system not working correctly. After the procedure is up and running, it is essential to monitor the system to ensure it meets the needs of the surgery center. Regularly monitoring the system can quickly identify and address any issues, ensuring that the EMR system runs optimally.
With proper testing and monitoring, surgery centers can confidently transition to an EMR system and have peace of mind that it works as it should. However, by following these steps, surgery centers can make the transition to an EMR system smoother and more successful.