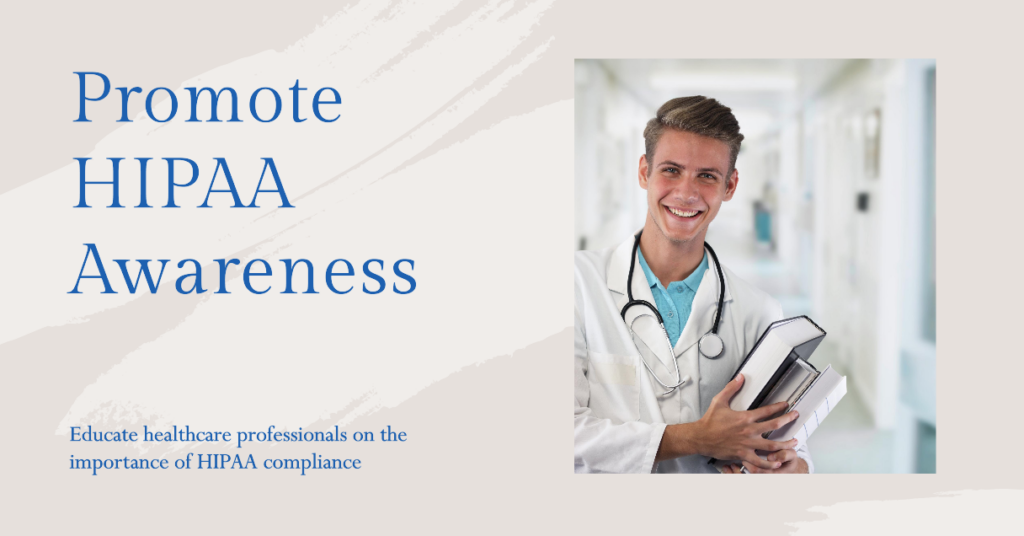 As the day rolls on, there is a hum of activity — medical charts being updated, insurance details being cross-verified, and phone calls being made. Everyone is so engrossed in this chaos that no one notices one crucial thing — the silent but significant exchange of personal health information. This lifeblood keeps this healthcare machine going.
Now, consider this. What if, in all this hustle and bustle, a piece of that health information ends up in the wrong hands? Suddenly, the scenario isn't too comforting. This is where HIPAA — the Health Insurance Portability and Accountability Act — chips in as the unsung hero, ensuring that patient information remains private, secure, and just where it needs to be. To ensure HIPAA conducts its life-saving mission effectively, we need the know-how and consistent compliance, aka HIPAA Awareness.
But barring induction training sessions, have we ever stopped considering when we should promote HIPAA awareness? The answer isn't as cut and dried as you'd imagine.
So, let's dive into the bustling world of healthcare and explore why promoting HIPAA awareness matters and when you should be doing it!
Table of content
When Should You Promote HIPAA Awareness?
Starting from the Very Beginning
Reinforcing Annually and Continuously
Adapting to Material Changes
Addressing HIPAA Rules
Setting Aside Time for Training
Specific Training for Business Associates
Cybersecurity Updates and Cue to HIPAA Retraining
The Importance of Yearly Assessments
Patient Privacy in Focus
Responding to Non-Compliance and Upholding Best Practices
When Should You Promote HIPAA Awareness?
Whether it be the countless testimonies or high-profile cases, anyone within the realm of healthcare organizations or handling protected health information (PHI) recognizes the critical importance of HIPAA compliance. Apart from ensuring that you do not violate HIPAA rules, it is also crucial to promote HIPAA awareness among your staff members continuongoingusly. This is vital for different reasons, including healthcare providers and their business associates' responsibility to keep patient privacy data secure.
The Health Insurance Portability and Accountability Act (HIPAA) has a stringent set of rules and regulations around handling health information PHI. Everyone, from healthcare providers to health plans and their business associates, is responsible for ensuring that internal privacy and security policies adhere to HIPAA standards. One of the most effective ways of attaining this is by promoting HIPAA awareness through security awareness training. However, when exactly should you elevate the level of HIPAA consciousness?
Starting from the Very Beginning
As per industry best practices, job-specific training, including HIPAA rules, is mandatory for new employees. After all, ensuring HIPAA compliance from the beginning of the employment contract is essential to ascertain that new employees understand HIPAA requirements. This is generally achieved through formal training sessions delivered by the IT department or external service providers.
However, HIPAA awareness isn't a one-time event. HIPAA training should ideally be an ongoing process that is updated and reinforced yearly, if not monthly or day-to-day, to maintain awareness and compliance.
Reinforcing Annually and Continuously
Annual retraining or refresher training sessions are vital to remind your employees of internal policies and HIPAA rules and to keep them alert about specific threats. These annual training sessions should involve teaching your staff about HIPAA regulations like the HIPAA Privacy Rule and the HIPAA Security Rule. Every business associate subject to HIPAA should provide security training within a reasonable timeframe.
However, should HIPAA awareness and education limit itself to these annual refresher training sessions? Not. They are making HIPAA awareness an integral part of your routine operations would be best. Many healthcare organizations conduct monthly compliance webinars for administrative workers and offer job-specific information through weekly updates. Doing this helps avoid overwhelming your employees with alert fatigue or data security concerns.
Adapting to Material Changes
Whenever there is a material change to HIPAA rules, you should immediately raise the level of HIPAA awareness. This should happen when new technology gets implemented, the Department of Human Services (HHS) releases new guidance, or there is a significant update in the business operations affecting the handling of PHI.
In such situations, you should conduct extra training sessions to explain the influence of these changes on work duties and HIPAA-covered data, including PHI patient privacy data security. It further becomes necessary to educate your team about the potential issues resulting from violated HIPAA rules and new phishing threats and ensure that the privacy or security of PHI is not compromised in the future.
Addressing HIPAA Rules
Promoting HIPAA awareness means a comprehensive understanding of HIPAA's privacy and security rules. The HIPAA Privacy Rule makes it essential for covered entities to limit who has access to PHI and under what circumstances. Awareness of these "allowable uses" can help avoid potential HIPAA violations. Also, the HIPAA Security Rule focuses on electronic PHI and the procedures and safeguards needed to prevent security or privacy violations. If these rules are violated, the entity may face hefty penalties, which can be avoided by the simple yet critical task of promoting HIPAA awareness.
Setting Aside Time for Training
One training program may not be enough to cover all aspects of HIPAA. This is why healthcare organizations should organize regular security awareness training sessions. This helps employees familiarize themselves with the laws and internal policies covering privacy and facilitates a platform for answering questions and clarifying doubts. Each training session should be engaging and should not bombard employees. Remember, the objective is to instill substantive knowledge, not cause overwhelm.
Specific Training for Business Associates and Administrative Workers
Apart from healthcare providers, all business associates who have access to PHI are obligated to follow HIPAA rules. Dedicated training programs should be organized for this group to ensure they are abreast of the changing landscape of data security, HIPAA privacy, and HIPAA security rules. The same applies to administrative workers or data handlers handling PHI in daily operations.
Cybersecurity Updates and Cue to HIPAA Retraining
Promoting HIPAA awareness isn't solely about delivering knowledge about regulations but also about ensuring that that knowledge is abreast of the latest in the digital space. The IT department is crucial in releasing cybersecurity updates, new phishing threats, and methods to bypass them. It's not unusual for staff within an organization to receive fake emails; thus, remaining vigilant and up-to-date is instrumental in preventing a potential breach.
The Importance of Yearly Assessments
Annual HIPAA assessments play a significant role in ensuring HIPAA compliance. They are an excellent opportunity to review previous violations and their causes and avoid repeating similar errors. It's a chance to learn from past mistakes. Employees can be subjected to test scenarios to see how they react in specific situations.
Patient Privacy in Focus
HIPAA was enacted to secure patient privacy. While respecting patient privacy is given, promoting HIPAA awareness and investing in HIPAA training enhances this respect and gives it a practical form. It aids in understanding the nuances of patient privacy data security and serves as a reminder of the duties of healthcare organizations towards their clients.
Remember, HIPAA awareness comes with numerous moving parts. In our constantly evolving medical sphere, there's always new guidance, new technologies, and, unfortunately, new threats. To ensure your organization's compliance with HIPAA rules, it is crucial to receive HIPAA training consistently. By keeping the flow of information ongoing, we can ensure our organizations are in a constant state of readiness against potential threats, thereby secusecuring PHI's sanctity and our commitment to serving our patients.
Responding to Non-Compliance and Upholding Best Practices
If a reported case of non-compliance leads to data breaches or privacy violations, HIPAA awareness must be reinforced. You should review internal security and privacy policies and train all staff members to prevent similar breaches and errors.
If new technology, such as threat information detection systems, gets implemented, your IT department should also test scenarios better to equip your staff against fake emails and similar breaches. Lastly, promoting HIPAA awareness should extend beyond your compliance program.
HIPAA awareness promotion should focus not just on avoiding HIPAA regulation violations but also on upholding best practices in the industry. HIPAA and data security awareness training programs should range from formal training sessions to regularly released email bulletins, which will help staff stay aware of potential privacy or security violation.
Conclusion
promoting HIPAA awareness requires a comprehensive effort, from signing the employment contract to every change in the law, technology, or best practices. This continuous training will ensure HIPAA compliance and patient privacy data security, making it a crucial part of the healthcare environment.
Remember, HIPAA awareness isn't just about avoiding violations and creating an environment where everyone handles health information responsibly and securely. Hence, promoting HIPAA awareness should happen continuously, daily, and year-round.