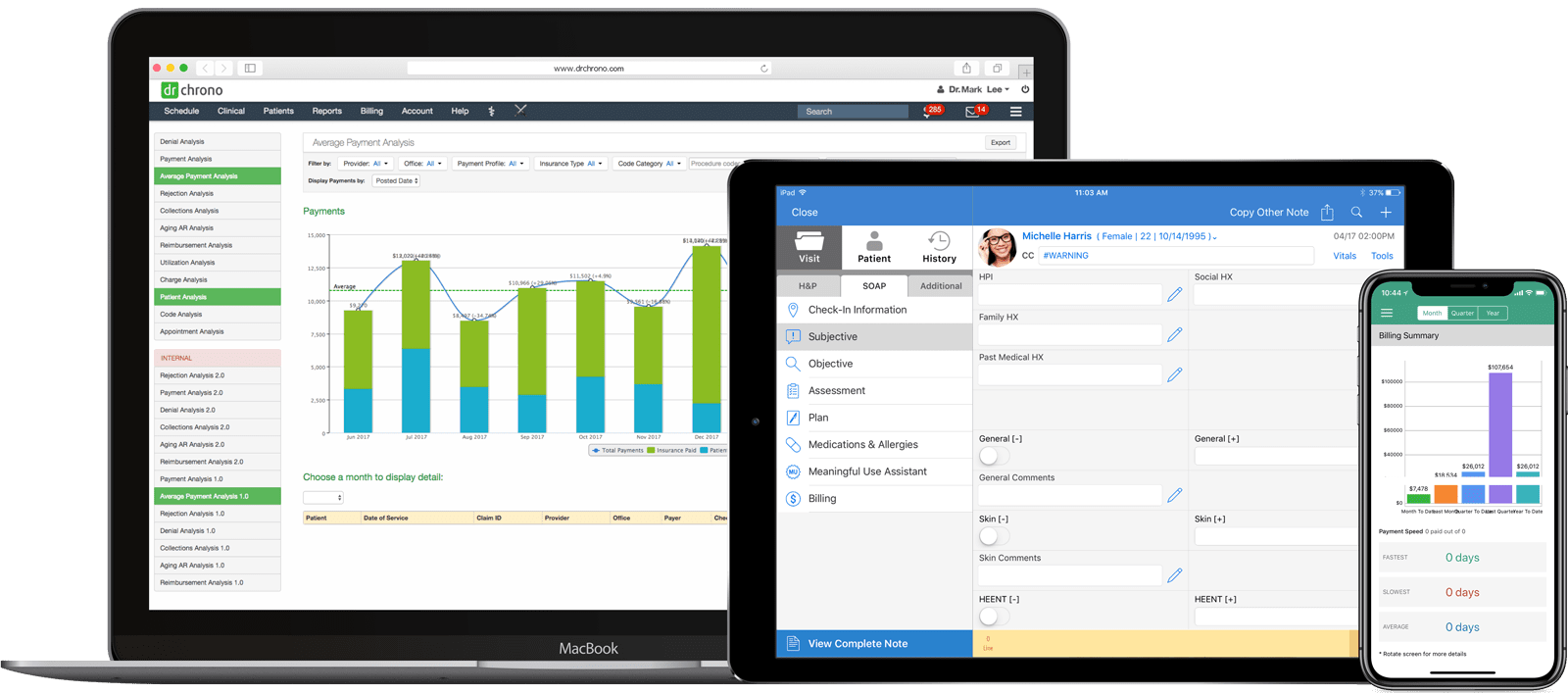 You're a healthcare professional striving to provide the best possible care for your patients while navigating an endless sea of paperwork, medical billing, and outdated technology. The good news is there's a solution designed to simplify and streamline those processes while helping you provide the highest quality of patient care. I'm talking about DrChrono EHR, an electronic health record platform that's changing the game for healthcare providers. In this blog post, we will dive into DrChrono EHR's features, pricing, integrations, pros and cons, and how it stacks up against the competition. Let's begin!
A Brief Overview of DrChrono EHR Software
DrChrono EHR is an all-in-one software solution for healthcare providers that includes customizable medical forms, HIPAA compliant patient portal, medical billing platform, practice management, and more. Their clinical workflow and clinical charting functionalities make the system stand out among other healthcare app developers. With DrChrono's intuitive and user-friendly interface, you can easily navigate the electronic health record system, ensuring minimal downtime when getting familiar with it. The DrChrono app allows you to access and update patient information, manage appointments, and even conduct video visits – all from your mobile device! DrChrono's EHR system offers complete transparency and a wealth of features, making it a game-changer for healthcare providers.
DrChrono Pricing, Support, and Resources
DrChrono has competitive pricing for different practice sizes and needs. There are four main tiers of DrChrono plans: Prometheus, Hippocrates, Apollo Plus, and Apollo. The DrChrono cost per month varies depending on the plan you choose, but rest assured that there's a solution for every budget.
DrChrono support is always there to help with a dedicated team ready to assist you. They offer resources, including DrChrono training videos, to ensure your practice can fully optimize the software. There's even a community forum where you can share experiences and ideas with fellow Dr.Chrono users.
DrChrono Pros and Cons
No software is perfect, and Dr Chrono is no exception; however, the pros significantly outweigh the cons. Some of the most notable advantages of DrChrono EHR include its intuitive interface, vast array of features, mobile capabilities, and competitive pricing. The DrChrono app, available on iOS devices, offers the flexibility to manage your practice even when you're on the go. DrChrono integrations with other popular software, such as Box, make it easy to expand functionality and streamline your practice further.
The cons of DrChrono are few and far between, but worth mentioning. Some users have reported occasional system slowdowns or outages, which can be frustrating but are generally resolved quickly. Additionally, the software is currently only compatible with iOS devices, so Android users may feel left out. Ultimately, though, DrChrono's pros heavily outweigh its cons, making it an excellent option for healthcare providers.
DrChrono's OnPatient Portal: Enhancing Patient Experience
One of Dr Chrono's standout features is its HIPAA compliant OnPatient portal. This patient portal allows patients to access their medical records, lab results, and prescription information securely. It also enables online scheduling and appointment reminders, improving the overall patient experience and streamlining practice management. With the Dr Chrono OnPatient portal, patients can feel empowered and engaged in their healthcare journey.
DrChrono Medical Billing Platform
Medical billing can be a headache for healthcare providers, but DrChrono's revenue cycle management solutions are designed to simplify the process. The medical billing platform integrates seamlessly with the EHR system, offering real-time eligibility verification and submission of electronic claims. With DrChrono's medical billing solution, you can focus on providing quality care instead of worrying about administrative tasks.
DrChrono and Apple Watch: The Future of Healthcare
DrChrono's integrations don't stop at other software – they extend to the world of wearables as well. The Dr Chrono app is compatible with the Apple Watch, allowing you to conveniently track patient information, receive appointment reminders, and monitor patient vitals without needing to pull out your phone. This level of electronic health record integration showcases Dr Chrono's commitment to technological innovation and can be a game-changer for healthcare providers.
Overall Rating and Additional Features
In terms of the overall rating, DrChrono's EHR scores high marks for its robust feature set, user-friendly interface, and excellent support system. Some additional features that deserve mention include e-prescribing capabilities and real-time patient data access, making it a powerful tool for any practice. Dr Chrono EMR and Dr. Chrono EMR are just different ways to refer to the same great platform.
Conclusion
DrChrono's EHR software offers an intuitive, accessible, and comprehensive solution for healthcare providers to manage their practice effectively. With features like customizable medical forms, a HIPAA compliant patient portal, medical billing, and iOS compatibility, it's easy to see why so many providers are choosing DrChrono for their electronic health record needs. Give it a try and see the difference it can make for your practice.